With over 40 years of experience in the design, manufacture, installation and startup of heavy load handling systems, Bardex Corporation has gained extensive insights into the problems and solutions associated with moving these heavy, massive loads. Our experience and knowledge has been garnered from systems operating in many extreme conditions from the Arctic to the subtropics. Our systems are designed to meet the exacting standards of regulatory agencies such as ABS, API, DNV, Lloyd's Register, USCG, etc Bardex has expanded further in the offshore and shipyard industries by creating a Support Service Group. This group is responsible for all support service functions associated with all current and future Bardex systems in use worldwide.
Presentation: www.bardex.equip4ship.com
Address: USA, CALIFORNIA, 93117 6338 Lindmar Drive,Goleta
Contact person: Commercial Department ,e-mail, website
Phone: +1 805 9647747
Fax: +1 805 6831763

unselect all/select all
You have 0 products selected
Hydraulic Power Units
Send enquiry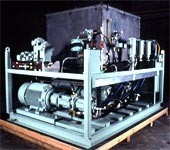 primarily for the offshore oil / gas and shipyard maritime industries. They are ruggedly constructed and designed for minimum maintenance and extended life while subjected to the harsh environments and continuous operation.